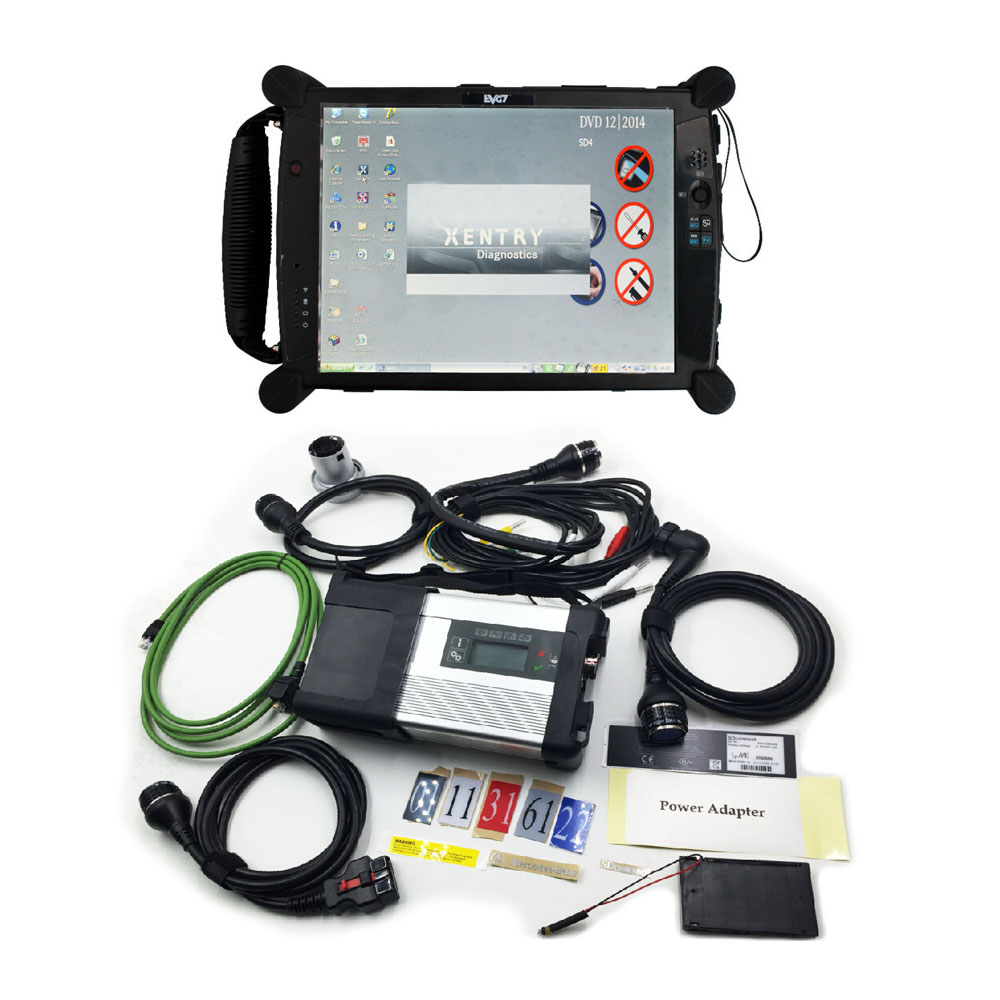 What the difference between C5 and other Mercedes star diagnostic?
Hardware: The hardware of C5 is better and stable than MB Star C4; it has a qualitative improvement in hardware and software by authorization of diagnostic interface to control the software.
1.OS: Windows Embedded Standard 7(32bit)
2.Processor: ArrandaieCeleron P4500 oder P4505(38W TDP)
3.Memory: 4G hard disk with 256GB SSD
4.Display: 128*64 PX
5.Battery: 40 minutes (When CPU capacity to 60%)
6.Weight: 1.9KG
7.Network connection: WLAN : IEEE802.11 a/b/g/n2.4+5GHZ
The way to connect: support wireless connection via 1000M workshop switches, also support wired connection.
Software: All diagnostic software is loaded into the Xentry Connect multiplexer itself.
The management software can be installed on any computer with Windows 7 – 32-bit or Windows 8 – 32-bit and serves only for communication with the multiplexer
The licensing system is reworked – now licenses are stored on MB servers – Any license changes are tracked by the multiplexer when connected to the Internet network.
Why you should buy Xentry connect?
After 2015, all Star Diagnosis equipment is no longer supported. First of all, this means that there is no update of the diagnostic data for the newest cars and their systems, as well as the lack of the possibility of coding and programming of electronic units due to the backlog of the software data level in the device, from data in the electronic control units of the car.
Already at the end of 2014, at most dealerships, almost all of the previously used Star Diagnosis Compact4 with SDConnect DoIP multiplexers were almost completely removed. Instead, dealers received Xentry Kit kits, which include the latest Xentry Connect multiplexers and Xentry Tab tablets from Panasonic. Tablets are custom-made, although they also have a "civilian" version – the Panasonic Toughbook CF-D1, somewhat inferior in terms of battery life to the original Xentry Tab, but it has a much more powerful configuration.
Honestly, the need to use the Xentry Tab on non-dealer services seems somewhat exaggerated to me. With dealers everything is clear – they were forced to use this equipment.
What about original Xentry connect c5 price?
Undoubtedly, the original c5 with Panasonic tablet from the ACTIA Company is excellent … But … Its price is disheartening. The cost of the Japanese tablet is realistic to buy pieces of eight new laptops or tablets from other manufacturers.
So , recommend buying an original Xentry connect and 1:1 clone: https://m.autonumen.com/goods-5208-MB+SD+Connect+C5+with+DTS+monaco+And+Vediamo+Plus+EVG7+Tablet.html (it's 12000 usd, the same result as the original), then buy a laptop yourself . the software from which Xentry Connect is managed can be installed without any problems on any computer that has a 32-bit version of Windows 7, Windows 8 or Windows 10. It's clear with Xentry Connect itself – there's no alternative .
After all, in this choice there are many reasons that encourage one to make a decision. The main thing is one: since 2015, the MB Star software diagnostic multiplexer Xentry Connect C5 becomes the only one used at dealerships.