Porsche Piwis II is the latest professional tester for Porsche,with samtec piwis tester 2 hardware,powerful functions,full access. Wifi piwis tester ii work with the full system porsche car ,Piwis II Wireless tester comes with best piwis ii VCI , support online function, It is equiped with the panasonic CF30 laptop and V18.100 software for the test.
PIWIS 2 Tester Description:
Software Version: V18.150, software will never expire!!
2. Laptop: CF-30 (Second Hand)—Software is inside the Hard Drive. No need Installation
3.Support Languages: Russian, English, French, Spanish, Italian, German, Portuguese, Japanese, Chinese, Dutch
4. Update Method: By HDD or By Email, one year for free, It can not be updated online. (Software contains operating system win XP only. you just need to insert into your computer and use it.)
5. Requires Online Modules: (F BCM R BCM DME ELV SRS KEY)
6. Bluetooth, GPS and Navigation Function are available. But you need to pay for the authorization of them.
7. Support Key Programming function ( you need consult our customer service first with the type and year of your car)
How to Setup Porsche Piwis tester II V18.15
1.The pacakge comes with a HDD.
2.Porche tester ii for Porsche OEM Wireless Solution Released! The wifi solution is 100% OEM as dealership ones, you can choose both USB (LAN) connection and Wireless (WLAN) function, also the wifi signal is really strong.
3.You will get One year free maintenance and free updating ,but Long-term technical support
4.Only use IP addresses approved for local operation (e.g. 192.168.x.x) in the local wLAN/LAN
How to use WIFI Samtec PIWIS II Setting Guide
Step 1 : need connect the USB cable to laptop, then setting in [VCI Config] by inputing the SSID and Password of router.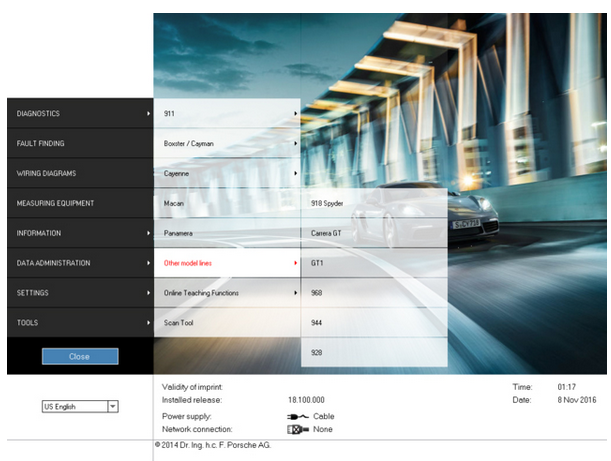 Step 2 : After configuration ,pls remove USB connection from your PC.
Step 3 : Install Samtec Piwis Tester II V18.10 Software and follow the system guide to enter Piwis Tester II V18.10 Software home menu like pix show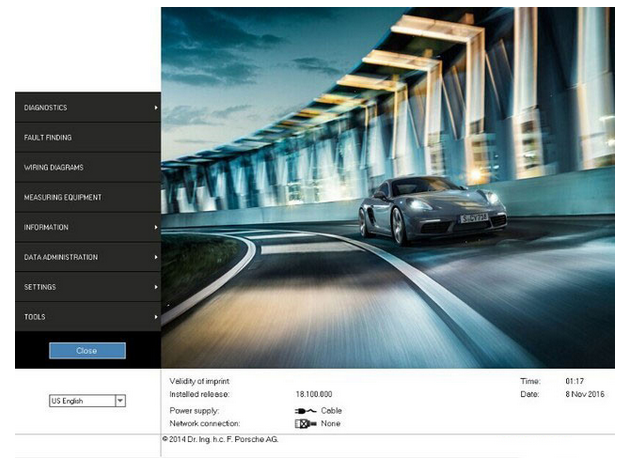 step 4 : Then you can choose operation to programmer or diagnostic for your Porsche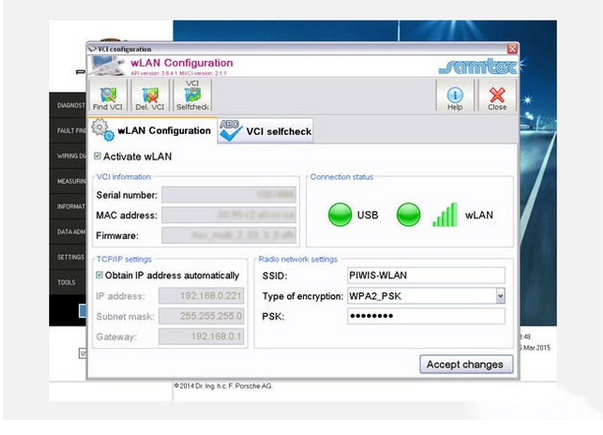 Step 5 : After finish diagnostic, please quit the connection, and quit to the homepage of the automotive diagnostic equipment, then shut off the laptop in correct way(DO NOT Press Power Button, otherwise the system will be damaged)
TIPS FOR CONFIGURING THE PIWIS II WIFI ROUTER
Only use IP addresses approved for local operation (e.g. 192.168.x.x) in the local wLAN/LAN
Example:
Network: 192.168.1.0, subnet mask 255.255.255.0
• Addresses that can be used: 192.168.1.1 up to 192.168.1.254
• Router address (gateway): 192.168.1.254
• Client addresses (e.g. VCI, laptop): 192.168.1.1 up to 192.168.1.100 (max. 100 participants)
If you want to know more,please click
https://www.autonumen.com/goods-5017-Porsche-Piwis-Tester-II.html