VAS 6154 is the 2017 latest vag diagnostic tool .WIFI VAS 6154 withV4.13 ODIS VW Software work for VW Audi Skoda from 2000 onward. Autonumen.com recommend  you latest VAS 6154 Diagnostic tool and tell you what is now .
WIFI VAS 6154 ODIS VW 4.1.3 VAG Diagnose Interface Replace VAS 5054A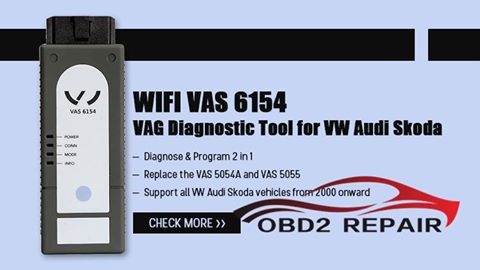 VAS 6154 Feature:
Latest diagnostic and programming interface for the applications VAG ODIS-S (Service) and ODIS-E (Engineering),can replace the VAS 5054A and VAS 5055.
Available for Off-board Diagnostic Information Engineering from V6.2 onward and Off-board Diagnostic Information Service from V3.0.3 onward.
What is new about VAS 6154 :
Firmware:vas 6154
Software:odis 4.13
Update by CD: Latest Version is V4.013.  Note: Do not support Old V19 Software.
If you want to do Seat, Bentley and Lamborghini, please buy VAS 5054A with Old V19 Software.
Support Multi-language:English, Japanese, Portuguese, Romanian, Korean, Dutch, Polish, Turkish, Spanish, French, Italian, Croatian, Danish, German, Swedish, Finnish, Slovenian, Czech, Russian, Greek, Chinese
Support Vehicles:All  VW Audi Skoda vehicles from 2000 onward including NEW & FUTURE MODLES under production.
Support WIFI & USB Connection:With wireless communication technology, can achieve wireless communication of the vehicle and diagnostic interface.
The following countries can use both WIFI & USB Connection:
Australia,Bosnia and Herzegovina,Brazil,Canada,Switzerland,Cyprus,Czech,Danmark,Estonia,Finland,Greece,Hongkong,Israel,India,Ireland,Italy,Lativia,Mexico,Netherland,New Zealand,Poland,Russia,Argentina,Korea,Singapore,Slovenia,Turkish,Ukraine ,UAE,United States,United Kingdom.
support USB module transmission, to ensure the reliability of diagnostic interface data transmission.if your country is not on the above authoriazted Country, you just can use USB Connection Module.
With point-to-point connection via a wireless network, VAS 6154 creates a radio network. VAS 6154 thereby adopts the role of a radio access point (Access Point). A direct connection is made between the diagnosis unit and the diagnosis interface VAS 6154.
VAS 6154 is configured using the web-based user interface.