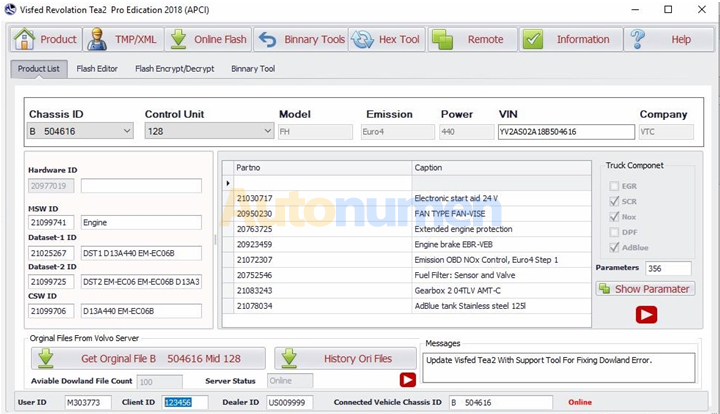 This is for those looking for working Volvo IS File ED Visfed software to work with Tech Tool for Volvo, Renault, Mack trucks reprogramming:
https://www.autonumen.com/goods-6914-Volvo-88890300-Vocom-Interface-Truck-Diagnose-Tool.html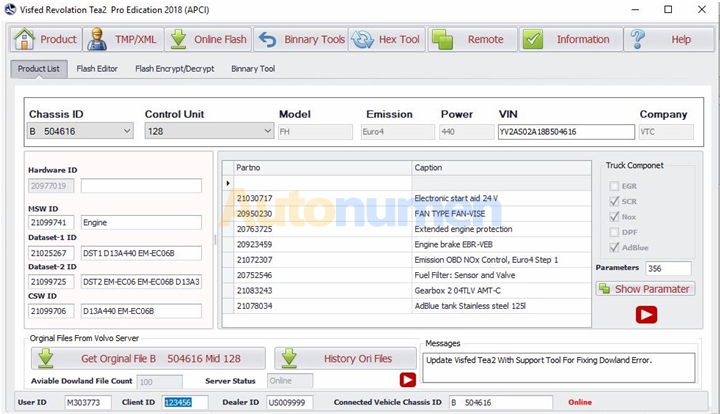 Volvo IS File ED – is a special software tool to decrypt, edit, encrypt ECU reload (also called intermediate storage) files for Volvo, Renault, Mack trucks. Tool is made to make all file rebuilding process as simple and easy as possible. It also allows to view ECU file and other information of part and sub part numbers, parameters, PID, PPID, SID, PSID, FMI. Checksum calculation possible of Intel HEX line and whole CSW file.
VISFED 0.3.2 activation and installation:
Free service via autonumen.com
The professionals will help you activate and install Visfed to work perfectly
No installation issues!
Supported service:
• Adding langauge.
• ECU reload with original software.
• Remove SCR and increase HP on: Volvo trucks (D9B, D11C, D13A, D13B, D13C, D16C, D16E engines).
• Remove SCR and increase HP on: Renault trucks (D11A, D11B, D11C, DXi13A engines).
Diagnostic kit can worked with PTT and visfed:
Volvo Diagnostic Kit (vocom 88890300)
Renault Diagnostic Kit (88840133)
MACK Diagnostic Kit (RP1210)
UD Diagnostic Kit (RP1210)
Visfed free version vs paid version:
you can get free Visfed when you buy Tech tool, but the function is limited.
Also, you may have luck to get a Visfed download link for free:
The paid version has powerful functions, including:
⦁10000+ Flash files (Volvo Truck, UD, Penta, Volvo Ce, Mack, USTruck, Bus, Renault Truck) on Online Sever… and Updating Database
⦁ Get Orginal File From Volvo Server (Volvo Truck, UD, Penta, Volvo Ce,Mack,USTruck,Bus,Renault Truck)
⦁CONVERT ECU files – VOLVO FLASH FILES TO BIN FILES( FOR PROGRAMMERS  Kess& K-Tag) ORI/BIN To TMP/XML Techtool (PTT) Flash —SPECIAL OPTION !!!
⦁Automaticly deactivate  ADBLUE off , EGR off, DPF off, NOX off on truck
⦁AutomaticlyIncrase Horse Power
⦁Noxoff Files(Same Flash)
⦁Egroff Files (Same Flash)
⦁ SCR Files (Same Flash)
⦁ DPF Files (Same Flash)
⦁ Euro2 Files (Same Flash)
⦁ Euro3 Files (Same Flash)
⦁ Euro4 Files (Same Flash)
⦁ Euro5 Files (Same Flash)
⦁HpIncase Files
⦁Ecu's Files for many ecu( Mid 128 ,140 ,130 etc)
⦁ See Flash Subdaset , Connected Vehicle Dataset and Compare Dataset.(Mid 128 ,Mid 140 See Language, Mid 130)
⦁Hextool (Whole Checksum, Linear Checksum ,ASCI>Hex,Hex>ASCI, File Linear Checsum)
⦁ Special Filter System On Online Flash ( Vehice specifications<brake,gearbox,aid,>,Hwid,MSW,DST1,DST2,CSW)
⦁ Auto Change Chassis ID on Hex (If whole checksum supported)
⦁Subdataset Editor (Only Change Subdatase Part no, and Name)
⦁ DST2,CSW Name Editor (Only ChangeDST2,CSW Part no, and Name)
⦁ Check Flash and Vehicle Parameter, and Parameter Count
⦁ XLM/TMP editor (Open own Xml and Tmp )
⦁ Auto Send all converted flash files directly in Techtool withoutmanual change chassis id or edited xml and interso.mdb….
And some interesting options:AdBlue/SCR/DPF/EGR/NOx Torque Reduction OFF.
Increase Horse Power.
Build Intel Hex file for chiptuning.
Recalculate Checksum of CSW.
VISFED 0.3.2 confirmed to work no issues:
Image 1: ONLINE FLASH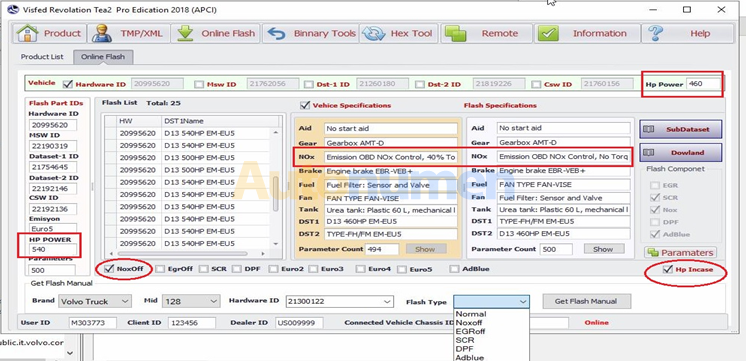 Image 2: BINTOOLS BIN TO FLASH CONVERTING2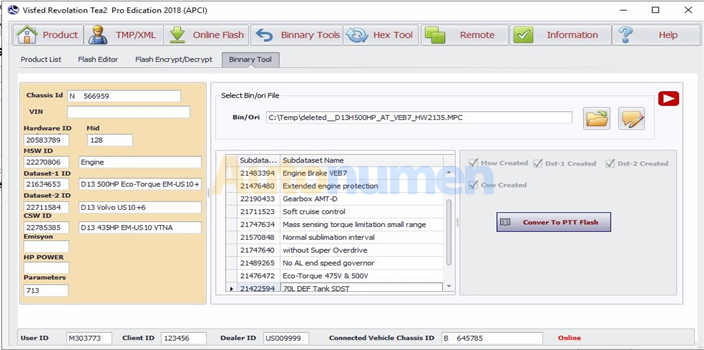 Image 3. BINTOOLS BIN TO FLASH CONVERTING1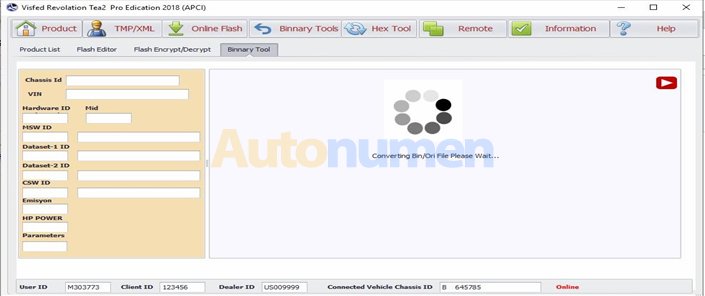 Image 4. XML editor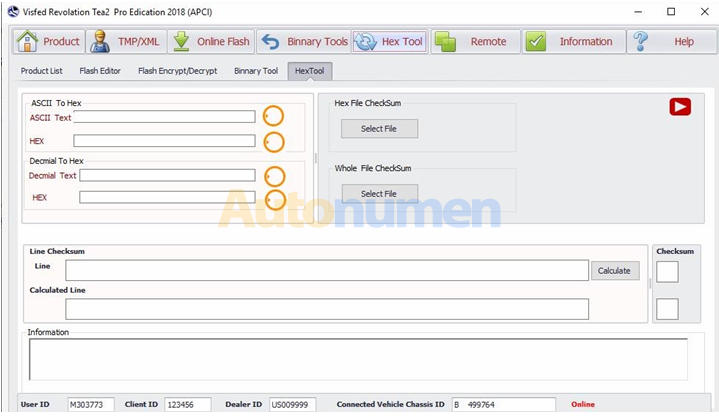 Image 5.Chassis Editor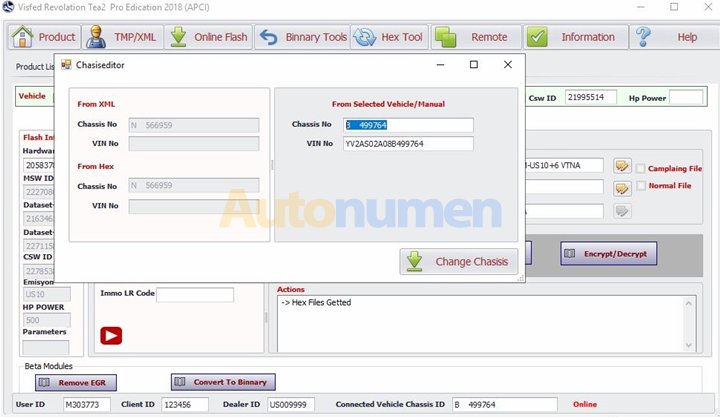 Image 6. Volvo Truck flash files 8400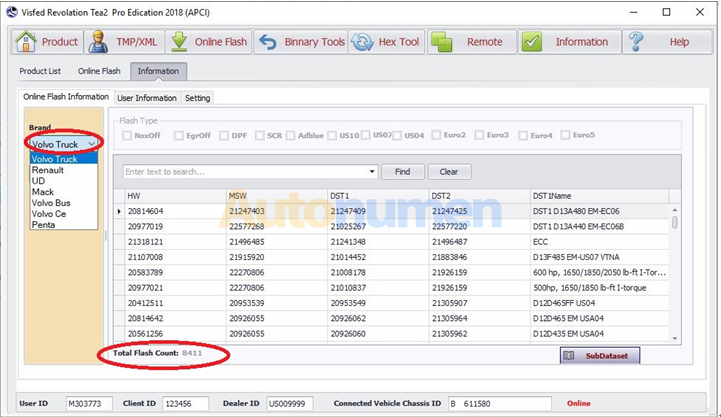 Image 7.Automaticly converting and put flash file in Techtool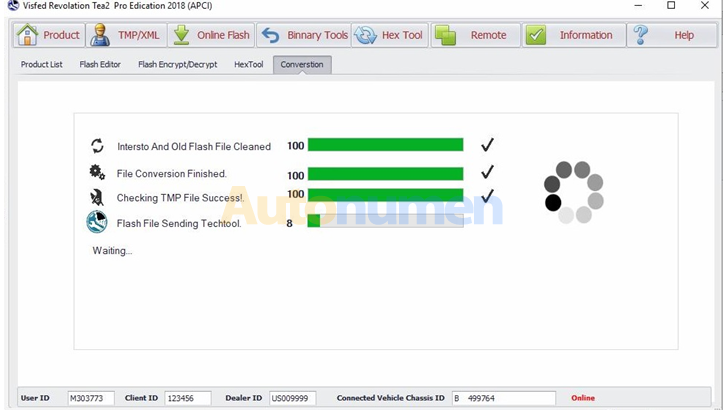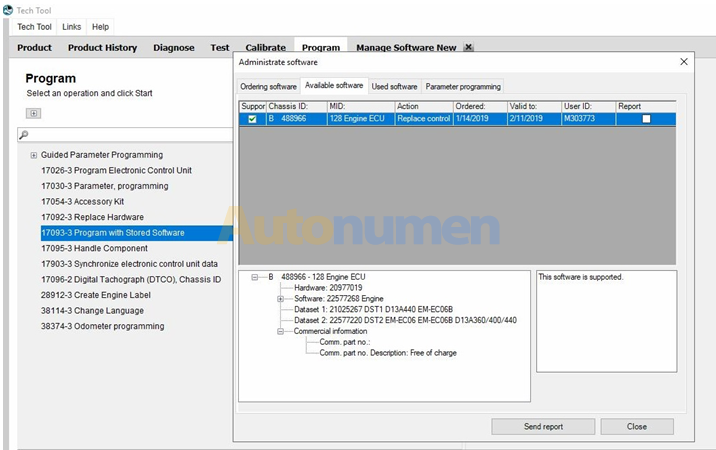 Note: It is the basic version, supports HEX, Volvo truck , renault truck(EU), HEX, VOLVO TRUCK, MACK Truck (NA).
You are able to add PENTA, VCE and BUS license.
PENTA, 350EUR
VOLVO VCE 500EUR
Volvo bus 350EUR
Contact us if you need.