This post comes with the guide about new original ACTIA VOCOMII Mini Volvo truck diagnostic tool incl. feature, comparison, car list, wifi connection and update.
What is VOCOMII Mini WiFi dongle?
The VOCOMII dongle is produced by ACTIA in Germany, covers all the functions of the VOCOM2 VOCOMII 88890400, which doesn't need any cables accessories because it can be connected to the laptop via WIFI perfectly. It is a portable vehicle communication device for its size and weight.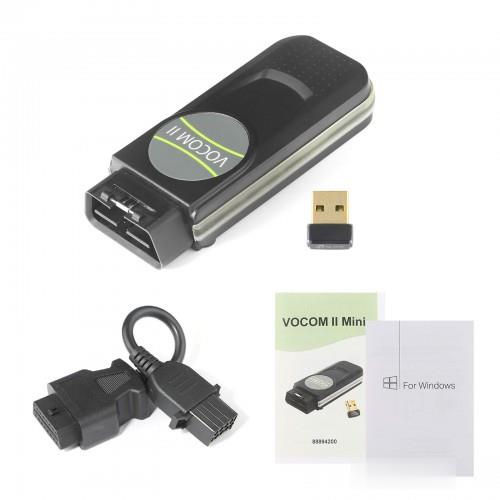 VOCOM II Though vs. VOCOM II Mini:
Item Name
VOCOM II Tough
VOCOM II Mini
Picture
Computer operating system
Windows 10 (32/64 bit)
Windows 10 (32/64 bit)
Computer connection
USB or Wi-Fi
Wi-Fi
Wi-Fi support
IEEE 802.11 a/b/g/n
IEEE 802.11 a/b/g/n
2.4 Ghz and 5 Ghz
2.4 Ghz and 5 Ghz
Wi-Fi security
PSK, EAP-PEAP, EAP-TLS
PSK, EAP-PEAP, EAP-TLS
WPA or WPA2
WPA or WPA2
Diagnostic application interfaces
RP1210C, J2534, J2534-1
RP1210C, J2534, J2534-1
Vehicle battery
12V or 24V
12V or 24V
Vehicle electronic architecture
Legacy
Version 2
Version 2
Version 3
Version 3
Version 4 T1
Version 4 T1
Version 4 T2
Vehicle connection
OBD2, 9-Pin, 6-Pin, FCI, MEFI, BNA*
OBD2, 9-Pin*
*using OBD2 adapter
Vehicle interfaces
2xCAN (max. 1 Mbps)
2xCAN (max. 1 Mbps)
1xJ1708 (max. 115 Kbps)
1xJ1708 (max. 38 Kbps)
1xK-Line (max. 115 Kbps)
1xEthernet (max. 100 Mbps)
Vehicle communication protocols
ISO 11898
ISO 11898
ISO 15765-2
ISO 15765-2
SAE J1939
SAE J1939
SAE J1708
SAE J1708
ISO 13400-2
ISO 9141
KWP 2000
Knorr/Wabco ABS
NIRA EDC1
Volvo Penta MEFI
BOSCH EDC
J1708 DIS
Geartronic
SL2Q/Free Running
Operating voltage
6V to 32V (max. 36V)
6V to 32V (max. 36V)
Operating temperature
-40°C to +85°C
-40°C to +70°C
-40°F to +185°F
-40°F to +158°F
IP protection rating
IP67
IP44
Weight
400 grams
85 grams
14.1 ounces
3 ounces
Dimensions (WxDxH)
160mm x 91mm x 44mm
110mm x 47mm x 22mm
6.30in x 3.58in x 1.73in
4.33in x 1.85in x 0.86in
What is the feature of WiFi VOCOM2?
Small, light weight and powerful – fits in your pocket.
Secure and fast Wi-Fi communication
Communicates over 2.4 Ghz and 5 Ghz Wi-Fi networks up to 300 Mbit/s – no cables required.
Support vehicle diagnosis and programming
Which car models can work with VOCOMII?
Supported Vehicles Models:
Volvo Trucks – Older electrical system, Vehicle electrical system '98; VERSION2, VERSION3; VERSION4 – FH4/FM4;
Volvo Buses – Conventional, Multiplexed, Multiplexed v2, Multiplexed v3;
Volvo Construction Equipment;
Volvo Penta, Marine engines – VERSION2, VERSION3;
Volvo OEM Component Customer – VERSION2, VERSION3;
Mack Trucks – V-MAC ( I/II/III, ITC, IV, IV+; I, DTI)
UD Trucks – VERSION2, VERSION3
Renault Trucks – VERSION2, VERSION3, VERSION4; (EURO 6, DX)
Support List:
For Vocom Trucks:
AC  Compo4  F10  F12  F16  FE FH FH12 FH16 FH565 FL FL10 FL12  FL6 FL7 FM FM10 FM12 FM9 FM7 Nh12 NH525 NH565 NL10 Nl12 VAh VHD Vm VN VT WC WG WI WX
For busses:
B10B  B10L B10M B10R B11R B12 B12B B12M B12R B13R B58 B5LH B5RH B6 B6R  B7FB B7L B7R B9L B9R B9S B9TL BXRC COMP12
PREVH PREVX OLYMPIAN SUPEROLY
Construction Equipment
Wheel Loader:
L110E  L110F L110G L120E L120F L120G L150E L150F L150G L180E L180F L180G L220E L220F L220G  L250G L330E L350F L45F-TP L45F-TPS L50F-TP L50F-TPS L50G-TP L50G-TPS L60E L60F L60G L70E L70F L70G L90E L90F L90G
Aryiculated Hauler:
A25D A25E A25F A30D A30E A30F A35D A35E A35F A40D A40E A40F T450D
Excavator:
EC135B EC140B EC140C EC140D EC160B EC160C EC160D EC180B EC180C EC180D EC200B EC210B EC210C EC235D EC240B EC240C EC250D EC290B EC290C EC300D EC330B EC330C EC340D EC360B  EC360C EC380D EC460B EC460C EC480D EC700B EC700C  ECR145C ECR235C ECR235D ECR305C EW140B EW140C EW140D EW145B EW160B EW160C EW160D EW180B EW180C EW180D  EW200B EW210C EW210D EW230C FB2800C FBR2800C FC2121C FC2421C FC2924C FC3329C PL3005D PL4608 PL4808D PL7015
Grader:
G710B G720B G726B G730B G740B G746B G780B G930 G930B G940 G940B G946 G946B G960 G960B G970 G976 G990
Skidsteer Loader :
MC110B MC60B MC70B MC80B MC90B
Compact Excavator:
EC55C EC80D ECR88 EW60C
Paver :
ABG7820B ABG8820B P7820C L882C
Other:
CARETRAC
VOCOM2 Mini Driver Software info:
Latest Version: Driver Version 4.7.0.1157
Firmware Version: 04.07.00.826
VOCOM II Driver 4.7.0.1157 Download: https://vocom.volvo.com/wp-content/uploads/Communication-Unit-VOCOM-II-4.7.0.1157.msi
How to Connect VOCOM2 Mini via WiFi?
Power on the vocom2 dongle and the lights will be flashing. Find the WIFI signal Vocom2D_******* from the laptop.
Click connect
Input "v2d+ SN num", SN number is 7 digits which you can find it from the back of the VOCOM2 dongle.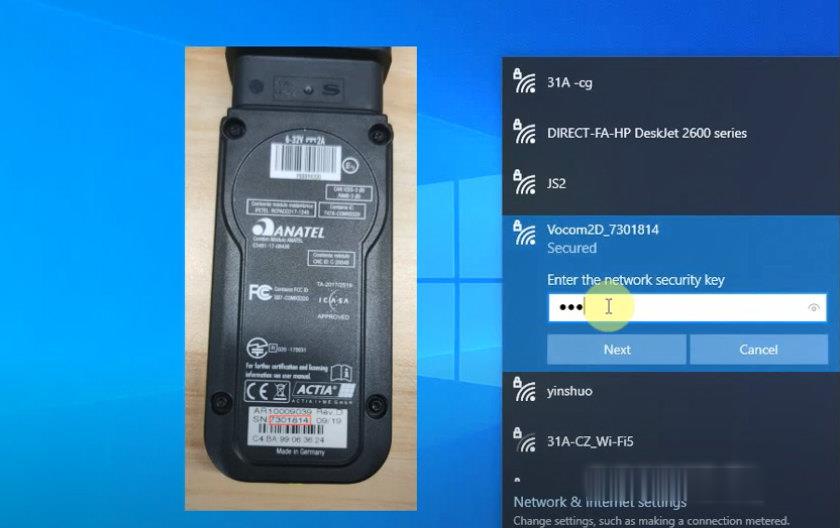 Wifi is setup successfully, then you can go to diagnose your car.
Go to settings to select VOCOM II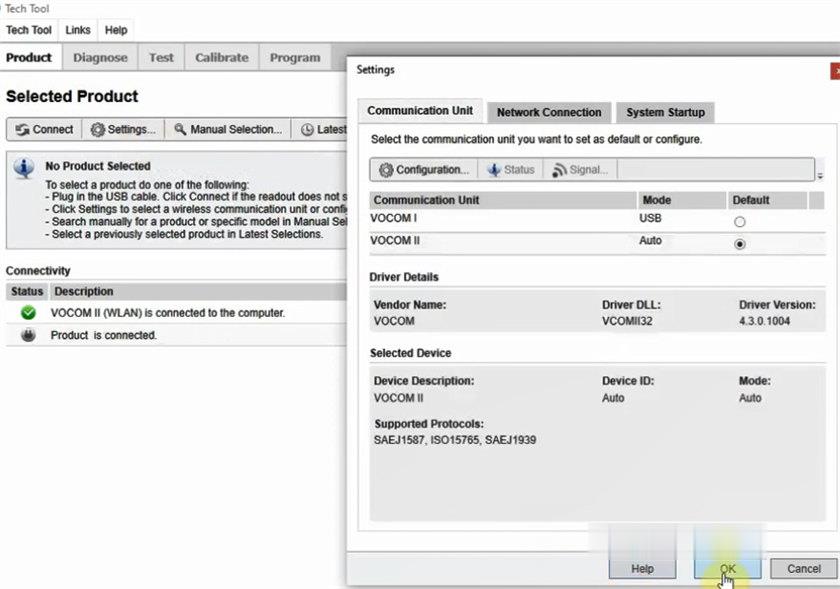 Create chassis ID with 1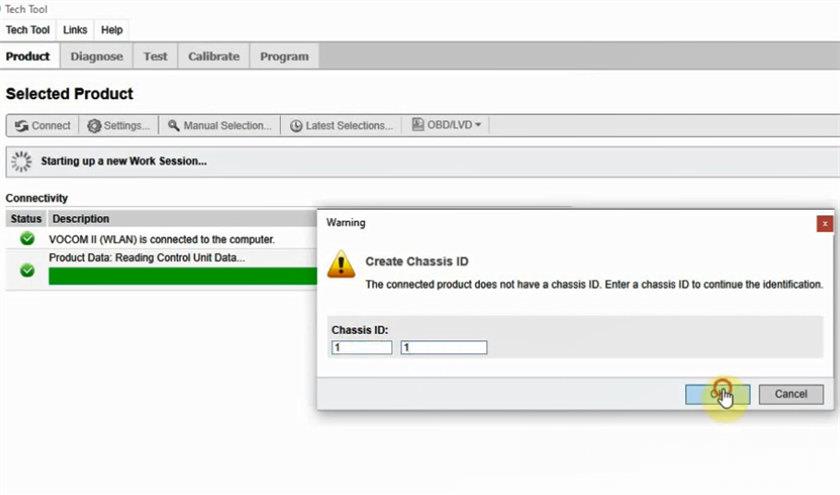 Enter work order number 23 and click Start Work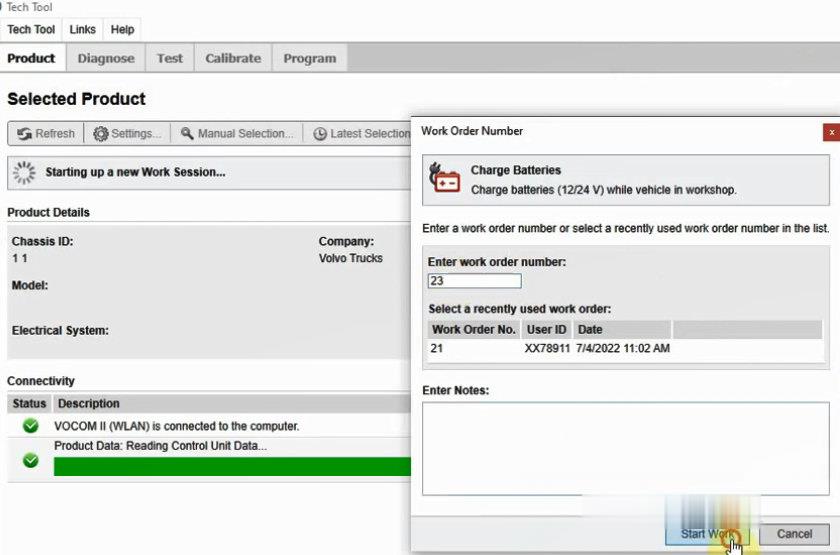 Login in with User ID, just click 'OK'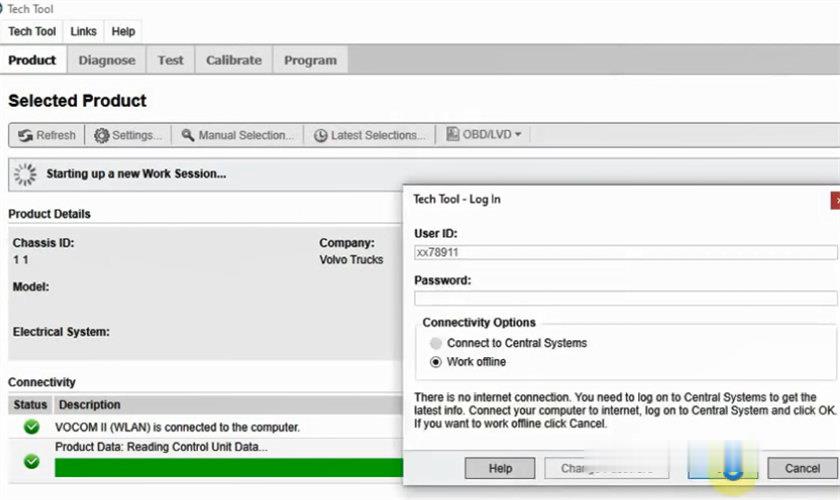 Select electrical system and model, ok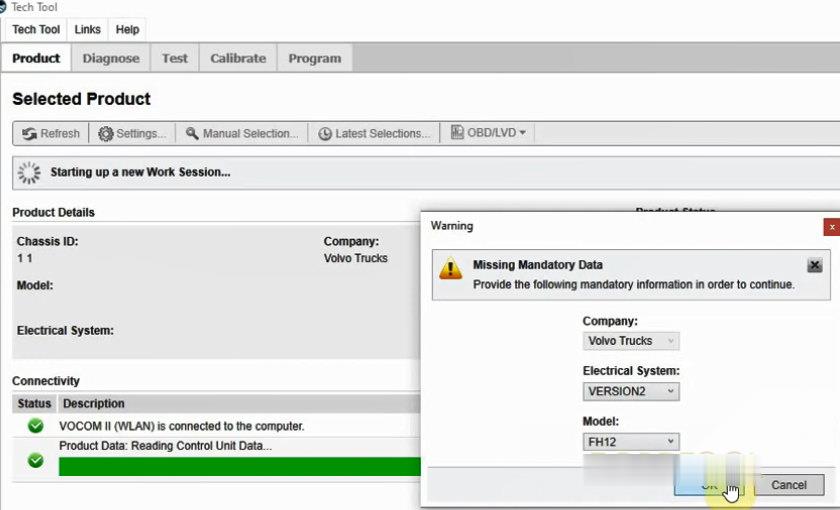 Diagnose the DTCs successfully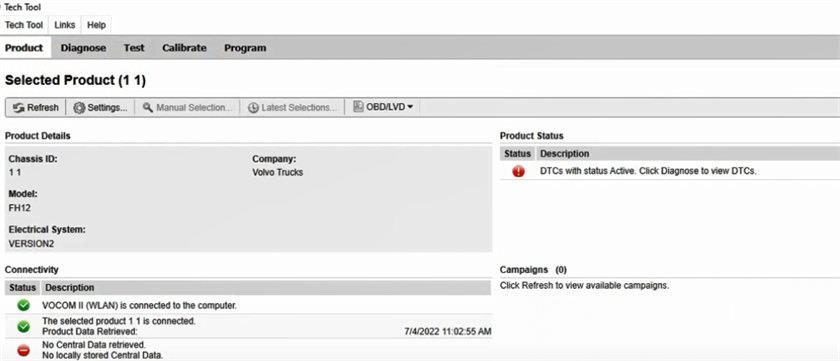 How to Update Vocom II Mini Firmware via WiFi?
Make sure that the vocom2 dongle is powered up by 24V ECU or truck. Low voltage will affect the firmware update.
1.After connecting with WiFi, go to All Programs and then click VOCOM II Configurator.
2.You will see the windows as below. And Click the setting icon as the pictures below.
3.Then choose 'Advanced'- 'Update Device Firmware'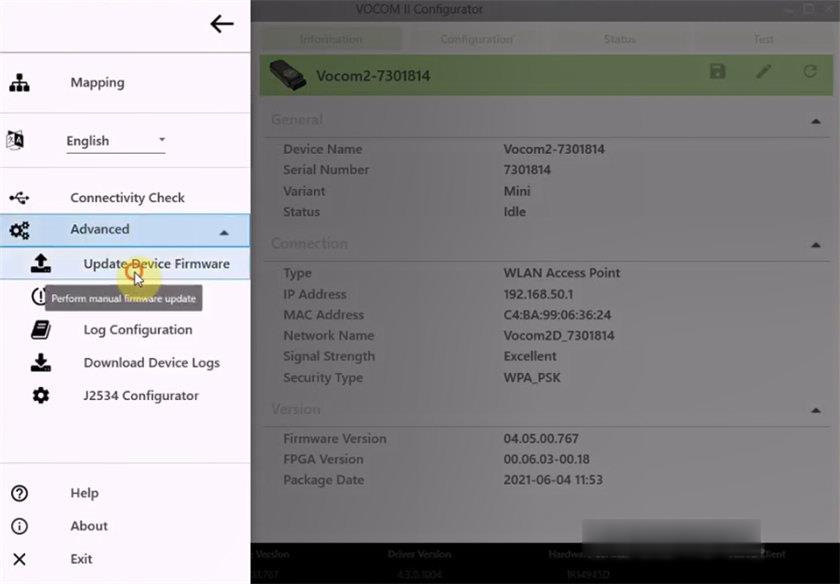 4.Click the Start update icon to update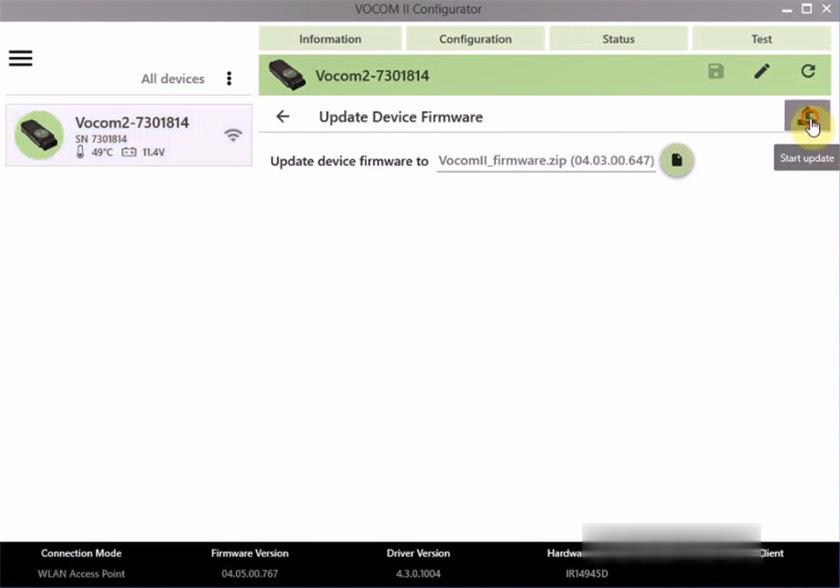 Wait a moment until it is finished.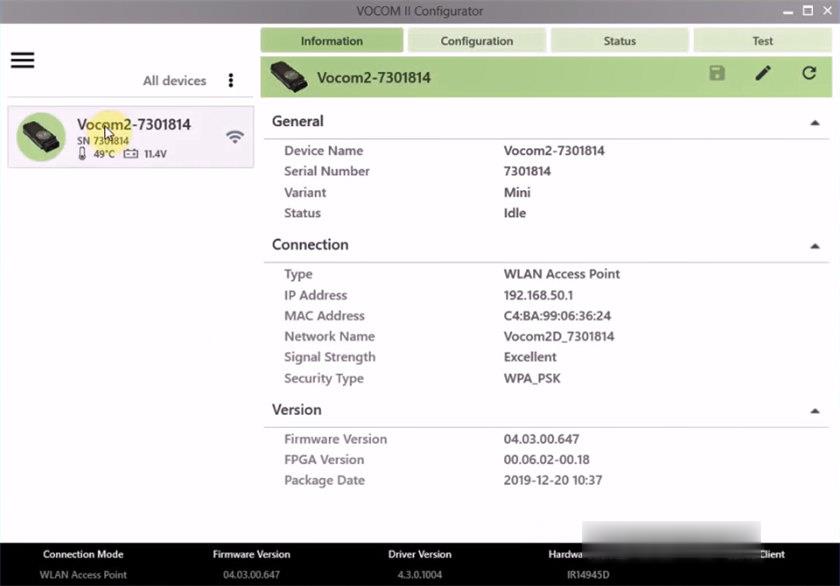 It will run the Volvo TECH TOOL automatically when the firmware update is finished