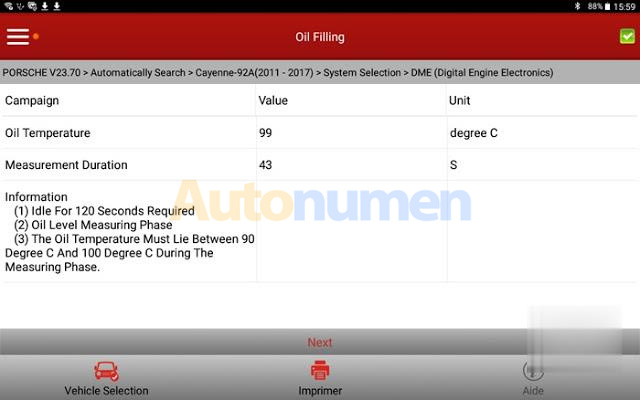 Checking the Porsche engine oil level makes more accurate than the normal procedure with the instrument cluster screen and on top of that, it tells you how much oil you have to top to be at max level. This will be used every time we change our oil.
Here is the procedure:
WM 170101 CHECKING ENGINE-OIL LEVEL USING THE PIWIS TESTER (CAYENNE, CAYENNE GTS, CAYENNE S HYBRID, CAYENNE S E, CAYENNE TURBO, CAYENNE
(3.0)) > CHECKING ENGINE-OIL LEVEL
Information
The Piwis Tester II instructions take precedence and in the event of a discrepancy these are the instructions that must be followed. Deviations may occur with later software versions.
1. PIWIS Tester II must be connected and ignition switched on.
2. Start the diagnostic program and select the required vehicle.
3. Select the DME control unit in the control unit overview. Press [F12] to continue.
4. Select the Maintenance/repairs menu. Press [F12] to continue.
5. Select the Oil filling function. Press [F12] to continue.
6. Start the engine and let it run until an engine oil temperature of 90° C is reached.Rev the engine if necessary to heat the engine oil to the specified temperature.
7.The oil level measurement process starts automatically as soon as the engine oil temperature
of 90° C is reached.
8. Switch off engine.
9. Add the quantity of oil displayed on the PIWIS Tester 2.
10. Disconnect the PIWIS Tester.
With the Launch X431 V+ it is located in the "Oil filling" special function menu of the DME and here is how it works:
Test on going: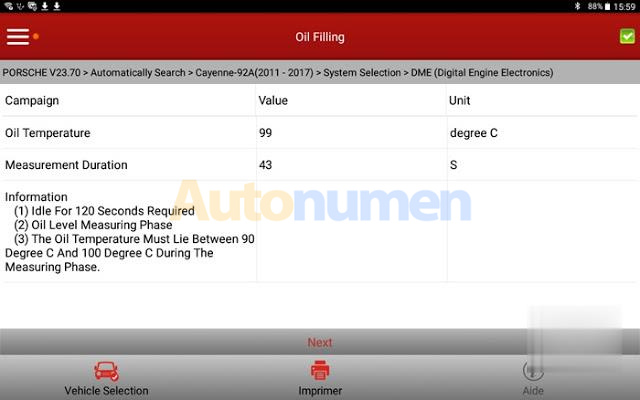 Result (0.9 liter to add):