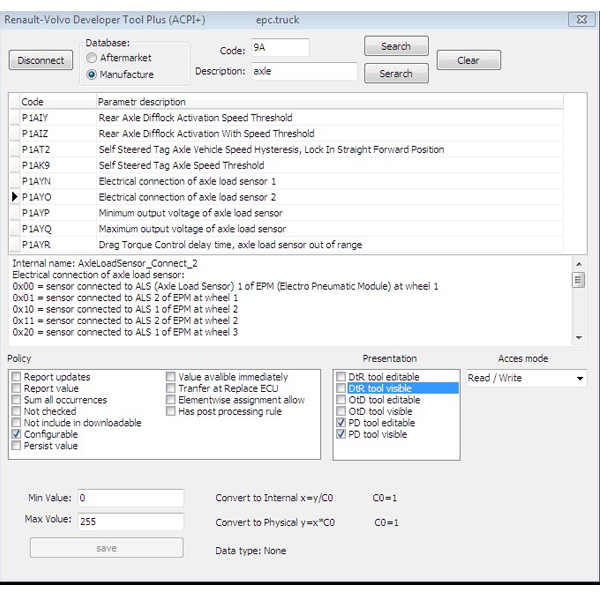 Volvo/Renault/MACK Ptt Developer Tool V2.04.87 is tested ok on Volvo 88890300 Vocom Interface, then how to use them together? Does it need to install PTT V2.04.87 or just plug the U disk and use?
Volvo 88890300 Vocom Int
Answer:
Step 1: Have one Volvo 88890300 Vocom Interface and PTT V2.04.87 from a reliable supplier
Volvo 88890300 Vocom inerface shown as below is the best working one, 539 USD at obd2eshop.com
There is not only one version of PTT V2.04.87, but if you know what you want, it is easy to pick up the right one.
For the old car programming, choose this ptt V2.04.87 with last acpi+:
https://www.autonumen.com/goods-5259-Volvo+88890300+Vocom+Interface+with+Software+PPT+112.html
Notice:This software not supports Version 3 and Version 4 truck,if you want ,you need pay extra 150usd for activate.
Windows 7 32/64 Ultimate or Proffesional or Enterprice With service pack 1.
DONT WORK With Home Edition
For the new and old car programming, choose this one:
https://www.autonumen.com/goods-6914-Volvo-88890300-Vocom-Interface-Truck-Diagnose-Tool.html
Software included:
Dev2tool (for programming parameters version 2 – older trucks)
Developer tool Plus(Acpi+) (for programming parameters version 3 and 4 – newer trucks)
Visfeed + Xml Editor
Volvo/ IS File Encryptor/Decryptor
Volvo Traing Files (Flash, PDF,Video) 3gb
Step 2: install software.
Software install online via teamviewer. The first-time installation is free of charge. To install the program it will take one whole day, if the network connection is poor, maybe take several days to install. Therefore we do not offer unlimited install, please understand.
After complete installation, you are ready to use Volvo PTT 2.04.87 on Volvo 88890300 Vocom Interface (Even for the newer Volvo PTT, it will work on 88890300 Vocom Interface by firstly installing.)