The JPRO heavy duty scanner diagnostics software is user friendly, it displays/erases SAE (generic) and OEM Engine, ABS, Transmission & Chassis Codes. The screen controls and menus are the same no matter which factory software is loaded on your computer
Heavy duty diagnostic tool JPRO support Mack, Volvo, Cummins, Detroit Diesel, International & PACCAR. ford, GM, Isuzu & Sprinter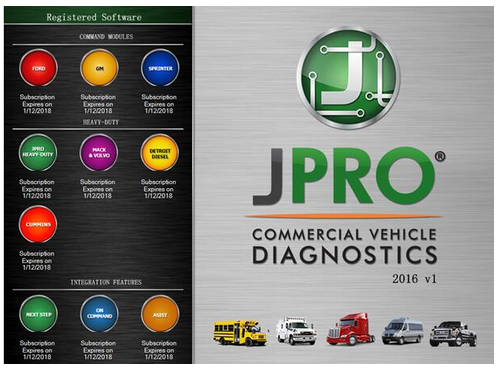 Is JPRO Diagnostics capable of parameter adjustments? No, JPRO Diagnostics is a diagnostic tool only.
Can JPRO heavy duty trucks Diagnostics clear Fault Codes?   Yes, JPRO heavy duty trucks Diagnostics has the ability to clear both active and inactive fault codes. JPRO  Diagnostics can also clear a single selected fault code.
Does JPRO Professional Diagnostic Tool work on a PC running Microsoft Windows Vista?  JPRO Professional Diagnostic Tool support Windows 7 Ultimate 32bit&64bit,Windows 7 Professional 32bit&64bit
Does JPRO Diagnostics support OBD II ? Yes, JPRO Diagnostics supports OBD II using the Noregon JPRO OBD II Adapter (#12114).