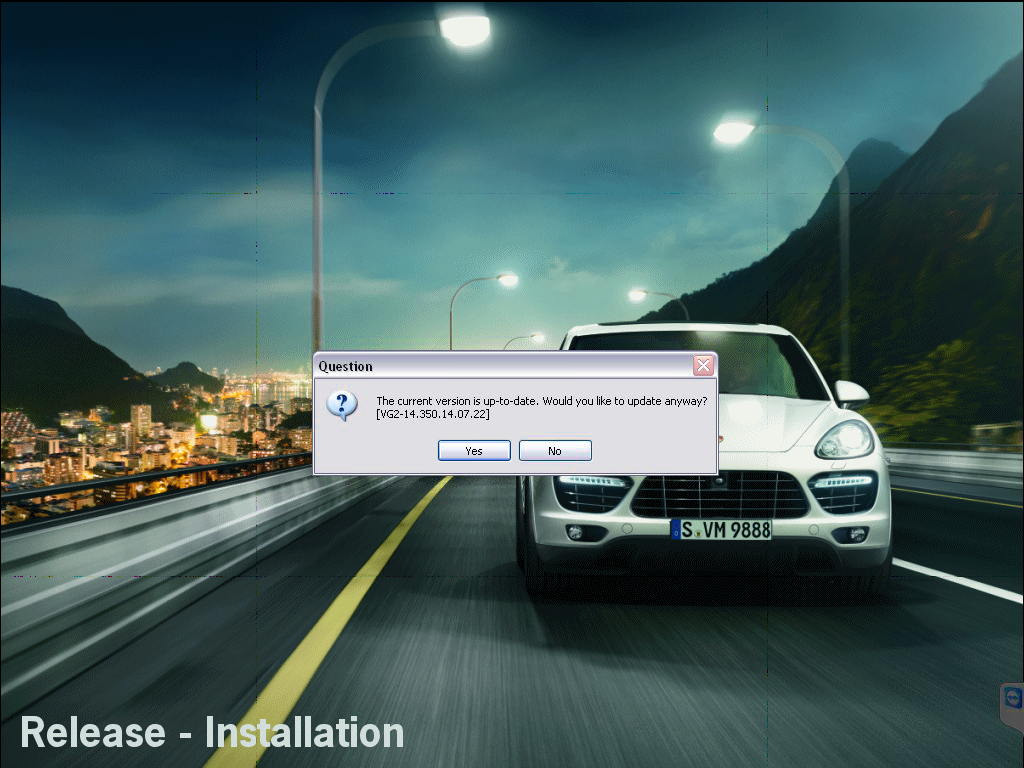 Porsche PIWIS Tester II V14.35 Released today, this new upgrade includes a new database of Porsche vehicles, but the wiring diagram software is not a new upgrade in this version.
Porsche PIWIS II is able to work with all Porsche vehicles from 1996, fully functional tool including fault finding and wiring diagram system.
If you need more solutions for your piwis Tester ii, please Click Blog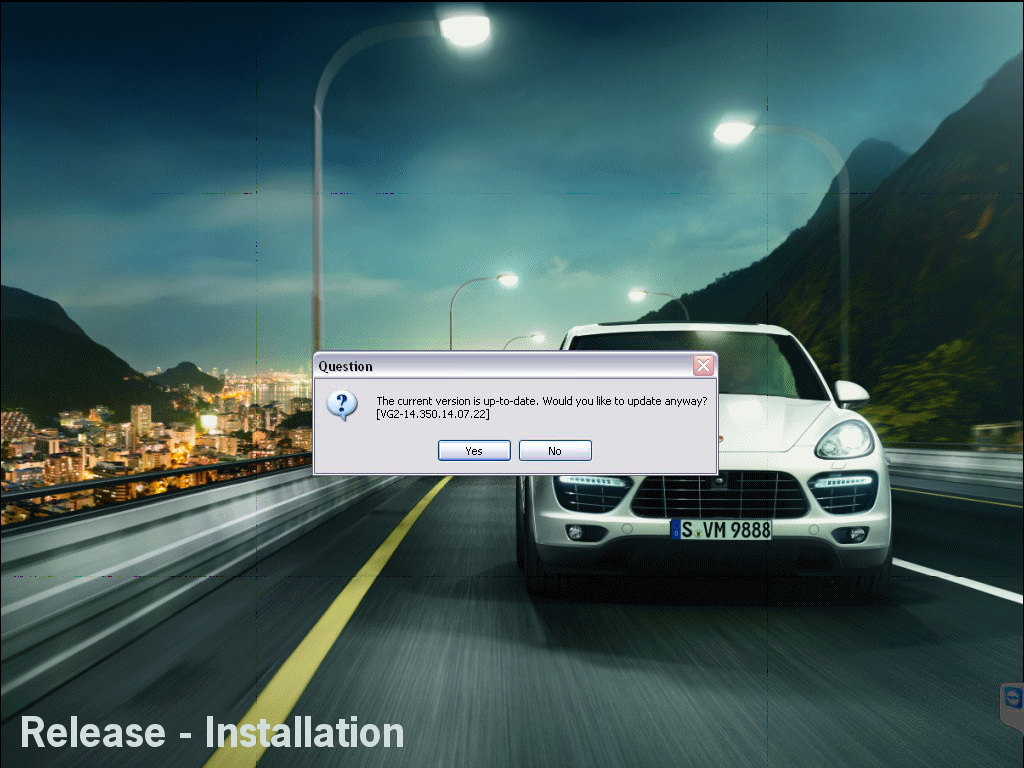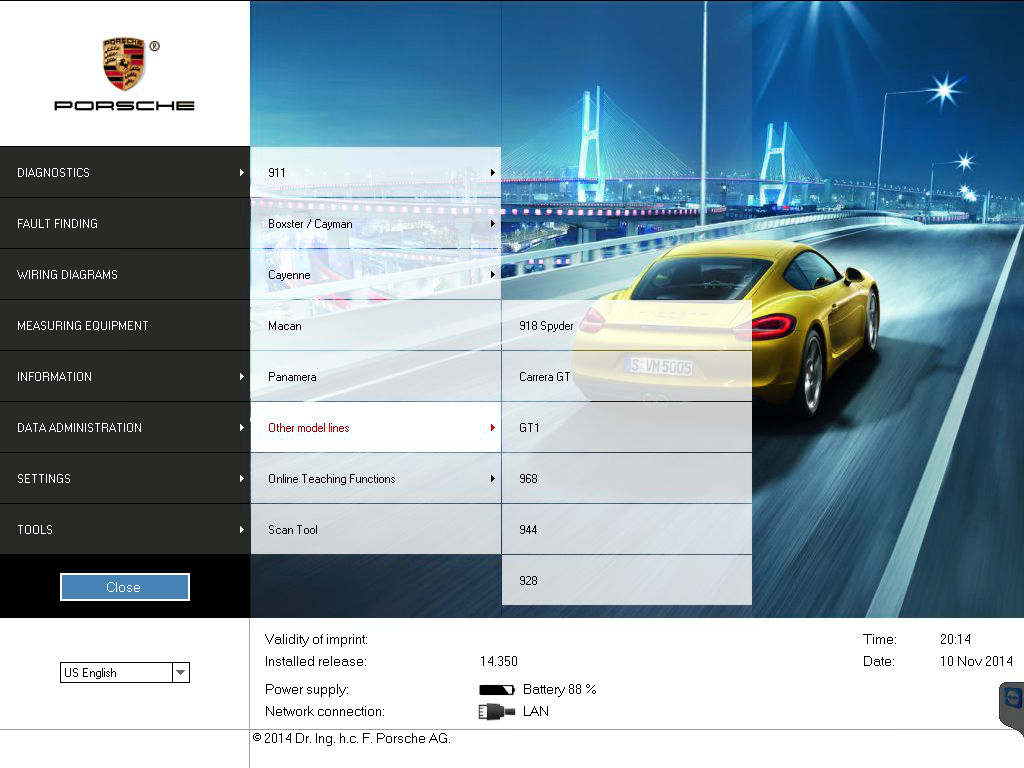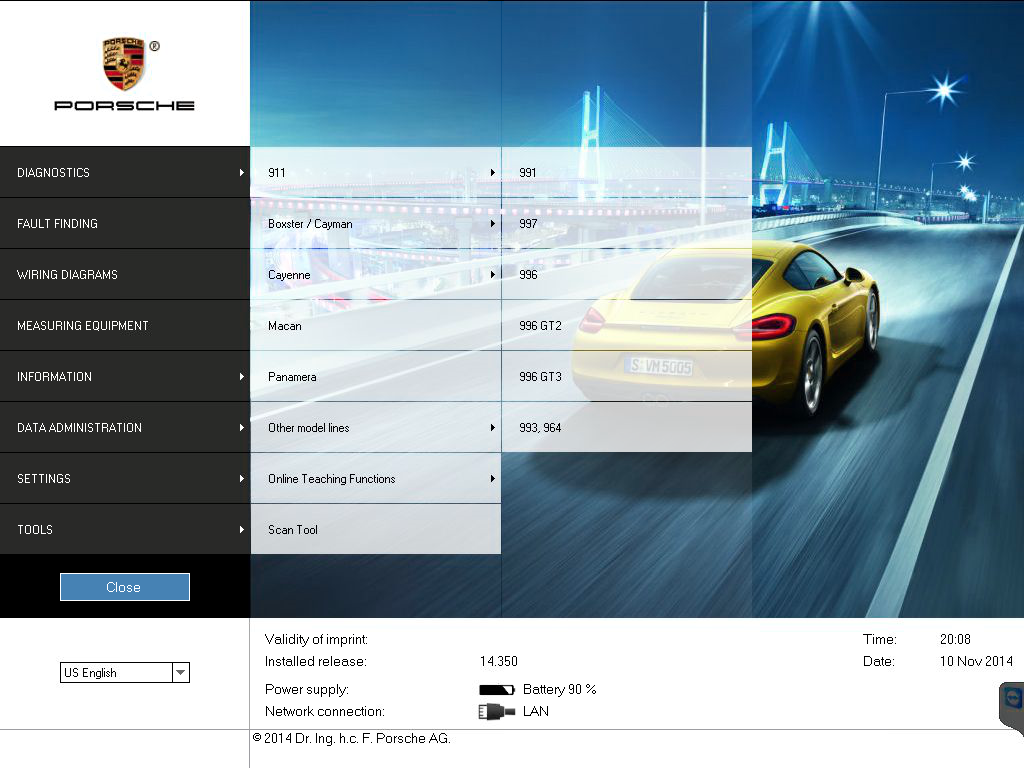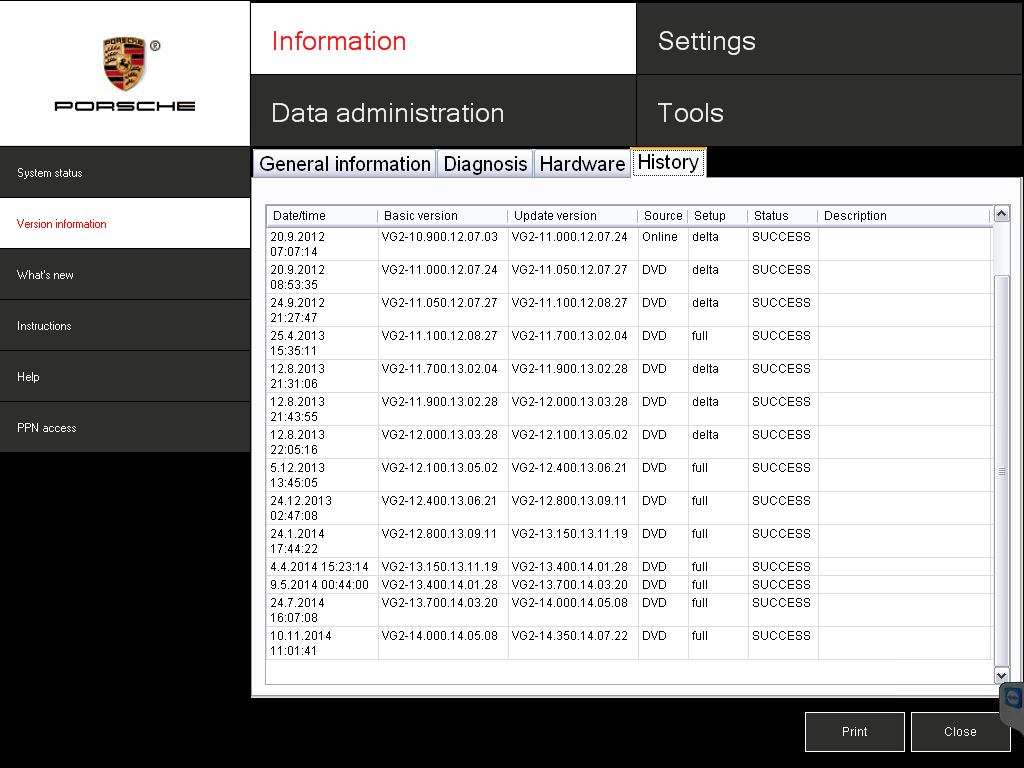 How to install upgrade of PIWIS TESTER II V14.35?
Upgrade V14.35 is very easy, just need firstly insert the DVD into Panasonic CF-30 laptop DVD Rom, and choose TOOLS – DVD Update in the homepage of the PIWIS TESTER II software screen.
It will shows you upgrade database new features in the next step, you can continue by clicking NEXT button for 4-5 times.
The whole upgrade period will take around 4-7 hours depends on your laptop config, please make sure the laptop always been charged during the upgrade progress. (Actually you can leave it and go to sleep, after you getup, you will see the finish window)
Some Tips before upgrade your software:
Please make sure your laptop software is already activated (imprint)
Please make sure the laptop charge is connected before upgrade
NEVER Close any windows during upgrade and wait with patience till upgrade finished.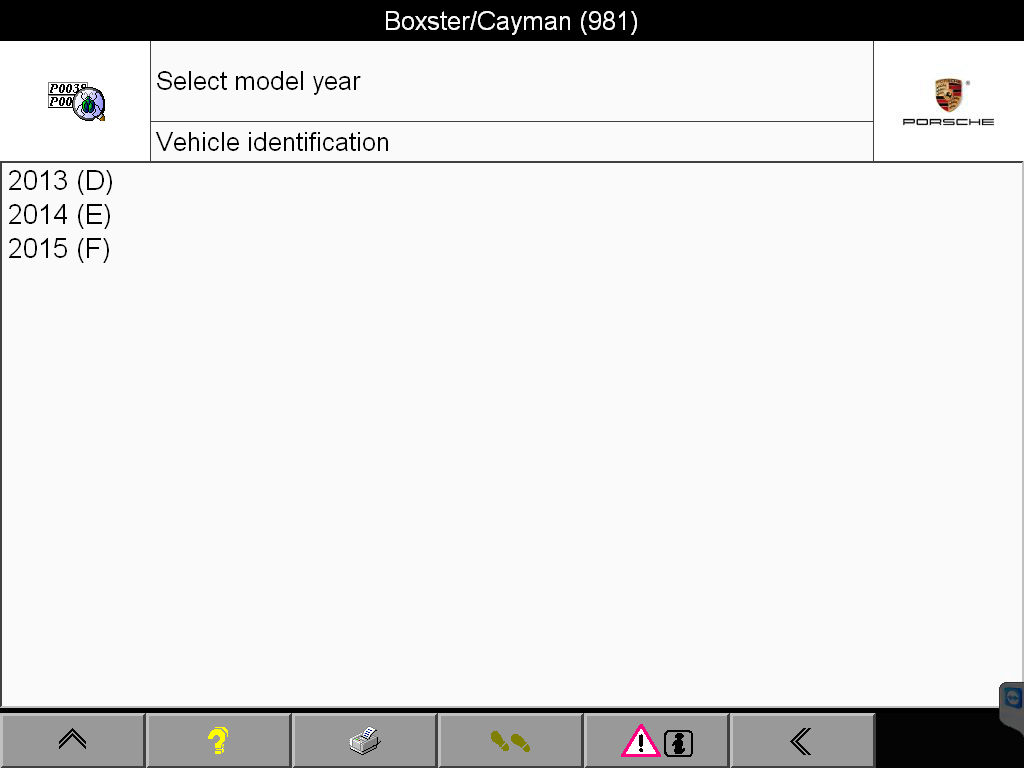 Lastly, I post the new features of Porsche Piwis Tester II v14.35 Upgrade information.
Ergänzungen in Version 14.350 im PIWIS Tester II
— Sportwagen 996/986/993:
Steuergerät Modell*Änderungen
Alarmanlage*Alle*Istwerte/Schalteingänge: Ergänzung der Schalteingänge
DME*Alle*Istwerte/Schalteingänge: Änderung der Rückgabewerte "Grenzwert überschritten" in plausible Messwerte des Messwertes Zylinderkopftemperatur
— Panamera:
Steuergerät*Modell*Änderungen
Zusatzmenü [F7]*Panamera S eHybrid*Wartung/Instandsetzung: Anpassung Kühlkreislauf entlüften
Zusatzmenü [F7]*Panamera S eHybrid*Wartung/Instandsetzung: Anpassung Ablauf Hochvoltsystem
Zusatzmenü [F7]*Alle*Wartung/Instandsetzung: Anpassung Ablauf PCC/VTS Inbetriebnahme
— 918 Spyder:
Steuergerät Modell*Änderungen
Multimedia*Alle*Codierungen/Anpassungen: Neue Codierungen zur Aktivierung der Navigationssoftware für Porsche Middle East
Zusatzmenü [F7]*Alle*Wartung/Instandsetzung: Anpassung Ablauf Hochvoltsystem
Zusatzmenü [F7]*Alle*Wartung/Instandsetzung: Anpassung Ablauf PCC/VTS Inbetriebnahme
DME*Alle*Wartung/Instandsetzung: Anpassung Ablauf Adaption Trennkupplung
DME*Alle*Programmierung: Neue Datensätze
PDK*Alle*Programmierung: Neue Datensätze
Leistungselektronik*Alle*Programmierung: Neue Datensätze
— Macan:
Steuergerät Modell*Änderungen
DME*Macan Diesel S*Wartung/Instandsetzung: Neue Funktion Ölbefüllung
DME*Macan Turbo, S*Wartung/Instandsetzung: Neue Funktion Ölbefüllung
— Cayenne 92A (ab MJ11):
Steuergerät*Modelle*Änderungen
Scheinwerfer*Cayenne Turbo*Wartung/Instandsetzung: Anpassung Ablauf Inbetriebnahme
Zusatzmenü [F7]*Alle*Wartung/Instandsetzung: Anpassung Ablauf PCC/VTS Inbetriebnahme
Zusatzmenü [F7]*Cayenne S eHybrid*Wartung/Instandsetzung: Neue Funktion Hochvoltsystem
DME*Cayenne S eHybrid*Wartung/Instandsetzung: Anpassung Ablauf Adaption Trennkupplung
DME*Cayenne S Diesel*Wartung/Instandsetzung: Neue Funktion Ölbefüllung
PDCC*Alle*Wartung/Instandsetzung:*Anpassung Ablauf Inbetriebnahme
Supplements in Version 14.350 in PIWIS Tester II
— 996/986/993 Sports Car:
Control unit Model*Changes
Alarm system*All*Actual values/input signals: Additions to the input signals
DME*All*Actual values/input signals: Change in the return values "Above limit value" in plausible measured values of the cylinder head temperature measured value
— Panamera:
Control unit*Model*Changes
Additional menu [F7]*Panamera S eHybrid*Maintenance/repairs: Adaptation of cooling circuit bleeding
Additional menu [F7]*Panamera S eHybrid*Maintenance/repairs: Adaptation of high-voltage system procedure
Additional menu [F7]*All*Maintenance/repairs: Adaptation of PCC/VTS commissioning procedure
— 918 Spyder:
Control unit Model*Changes
Multimedia*All*Codings/adaptations: New codings for activation of the
navigation software for Porsche Middle East
Additional menu [F7]*All*Maintenance/repairs: Adaptation of high-voltage system procedure
Additional menu [F7]*All*Maintenance/repairs: Adaptation of PCC/VTS commissioning procedure
DME*All*Maintenance/repairs: Adaptation of separating-clutch adaptation procedure
DME*All*Programming: New data records
PDK*All*Programming: New data records
Power electronics*All*Programming: New data records
— Macan:
Control unit Model*Changes
DME*Macan Diesel S*Maintenance/repairs: New oil filling function
DME*Macan Turbo, S*Maintenance/repairs: New oil filling function
— Cayenne 92A (from MY 11):
Control unit*Models*Changes
Headlights*Cayenne Turbo*Maintenance/repairs: Adaptation of commissioning procedure
Additional menu [F7]*All*Maintenance/repairs: Adaptation of PCC/VTS commissioning procedure
Additional menu [F7]*Cayenne S eHybrid*Maintenance/repairs: New high-voltage system function
DME*Cayenne S eHybrid*Maintenance/repairs: Adaptation of separating-clutch adaptation procedure
DME*Cayenne S Diesel*Maintenance/repairs: New oil filling function
PDCC*All*Maintenance/repairs: Adaptation of commissioning procedure
Compléments pour la version 14.350 sur le testeur PIWIS II
— Modèles sport 996/986/993 :
Calculateur Modèle*Modifications
Système d'alarme*Tous*Valeurs réelles/Contrôle fonctions : ajout de nouvelles fonctions
DME*Tous*Valeurs réelles/Contrôle fonctions : modification des valeurs de restitution "Valeur limite dépassée" en valeurs de mesure plausibles de la valeur de mesure de la température de la culasse
— Panamera :
Calculateur*Modèle*Modifications
Menu supplémentaire [F7]*Panamera S eHybrid*Entretien / Réparation : adaptation purge du circuit de refroidissement
Menu supplémentaire [F7]*Panamera S eHybrid*Entretien / Réparation : adaptation procédure système haute tension
Menu supplémentaire [F7]*Tous*Entretien / Réparation : adaptation procédure de mise en service PCC/VTS
— 918 Spyder :
Calculateur Modèle*Modifications
Multimédia*Tous*Codages / adaptations : nouveaux codage pour l'activation du logiciel de navigation pour Porsche Middle East
Menu supplémentaire [F7]*Tous*Entretien / Réparation : adaptation procédure système haute tension
Menu supplémentaire [F7]*Tous*Entretien / Réparation : adaptation procédure de mise en service PCC/VTS
DME*Tous*Entretien / Réparation : adaptation procédure d'adaptation embrayage de coupure
DME*Tous*Programmation : nouveaux blocs de données
PDK*Tous*Programmation : nouveaux blocs de données
Électronique de puissance*Tous*Programmation : nouveaux blocs de données
— Macan :
Calculateur Modèle*Modifications
DME*Macan Diesel S*Entretien / Réparation : nouvelle fonction remplissage d'huile
DME*Macan Turbo, S*Entretien / Réparation : nouvelle fonction remplissage d'huile
— Cayenne 92A (à partir de l'AM 11) :
Calculateur*Modèles*Modifications
Phares*Cayenne Turbo*Entretien / Réparation : adaptation procédure de mise en service
Menu supplémentaire [F7]*Tous*Entretien / Réparation : adaptation procédure de mise en service PCC/VTS
Menu supplémentaire [F7]*Cayenne S eHybrid*Entretien / Réparation : nouvelle fonction système haute tension
DME*Cayenne S eHybrid*Entretien / Réparation : adaptation procédure d'adaptation embrayage de coupure
DME*Cayenne S Diesel*Entretien / Réparation : nouvelle fonction remplissage d'huile
PDCC*Tous*Entretien / Réparation : adaptation procédure de mise en service
Anexos de la versión 14.350 del PIWIS Tester II
— Vehículo deportivo 996/986/993:
Unidad de mando Modelo*Modificaciones
Sistema de alarma*Todos*Valores reales/Entradas de conexión: Ampliación de las entradas de conexión
DME*Todos*Valores reales/Entradas de conexión: Modificación de los valores de respuesta "Valor límite sobrepasado" en valores de medición plausibles del valor de medición Temperatura de la culata
— Panamera:
Unidad de mando*Modelo*Modificaciones
Menú adicional [F7]*Panamera S eHybrid*Mantenimiento/Reparación: Adaptación Desairear el circuito de refrigeración
Menú adicional [F7]*Panamera S eHybrid*Mantenimiento/Reparación: Adaptación Proceso Sistema de alta tensión
Menú adicional [F7]*Todos*Mantenimiento/Reparación: Adaptación Proceso PCC/VTS Puesta en servicio
— 918 Spyder:
Unidad de mando Modelo*Modificaciones
Multimedia*Todos*Codificaciones/Adaptaciones: Nueva codificación para activación del software de navegación para Porsche Middle East
Menú adicional [F7]*Todos*Mantenimiento/Reparación: Adaptación Proceso Sistema de alta tensión
Menú adicional [F7]*Todos*Mantenimiento/Reparación: Adaptación Proceso PCC/VTS Puesta en servicio
DME*Todos*Mantenimiento/Reparación: Adaptación Proceso Adaptación Embrague de separación
DME*Todos*Programación: Nuevos juegos de datos
PDK*Todos*Programación: Nuevos juegos de datos
Sistema electrónico de potencia Todos*Programación: Nuevos juegos de datos
— Macan:
Unidad de mando Modelo*Modificaciones
DME*Macan Diesel S*Mantenimiento/Reparación: Nueva función Llenado de aceite
DME*Macan Turbo, S*Mantenimiento/Reparación: Nueva función Llenado de aceite
— Cayenne 92A (a partir del AM 11):
Unidad de mando*Modelos*Modificaciones
Faros*Cayenne Turbo*Mantenimiento/Reparación: Adaptación Proceso Puesta en servicio
Menú adicional [F7]*Todos*Mantenimiento/Reparación: Adaptación proceso PCC/VTS Puesta en servicio
Menú adicional [F7]*Cayenne S eHybrid*Mantenimiento/Reparación: Nueva función Sistema de alta tensión
DME*Cayenne S eHybrid*Mantenimiento/Reparación: Adaptación Proceso Adaptación Embrague de separación
DME*Cayenne S Diesel*Mantenimiento/Reparación: Nueva función Llenado de aceite
PDCC*Todos*Mantenimiento/Reparación: Adaptación Proceso Puesta en servicio
Integrazioni nella versione 14.350 del tester PIWIS II
— Vetture sportive 996/986/993:……..If you need more solutions for your piwis Tester ii, please Click Blog